Why Hire Us?
It is essential to have dedicated, proven legal advocates by your side that not only understand the challenges you're facing but, more importantly, how to secure results on your behalf.
GET A FREE CONSULTATION
Please fill out the form and we will get back to you shortly.
BACKED BY THOUSANDS OF SUCCESSFUL RESULTS
We handle cases of all different sizes, and we have helped injury victims get the compensation they deserved.
WE ARE NOT AFRAID TO TAKE YOUR CASE TO TRIAL
While some lawyers only handle cases until it gets tough, we are with you until the end and will guide you through the trial process, if necessary.
IF NECESSARY, WE WILL TRAVEL TO YOU FOR HELP
After being injured, we understand the undue stress you're under. We are here for you. Let us come to you and discuss your options.
Why us
After an unexpected accident, an injury victim can feel as if their lives have been turned upside down.
They now have their health to consider, as well as medical bills, lost time at work, and potentially an uncertain financial future. When facing these concerns, it is essential to have dedicated, proven legal advocates by your side that not only understand the challenges you're facing but, more importantly, how to secure results on your behalf.
Our skilled, experienced Augusta personal injury attorney partners closely with victims, their loved ones, and medical professionals to develop thorough and compelling claims for compensation. If you or a loved one has been hurt, M. Austin Jackson Attorney at Law is ready to speak with you.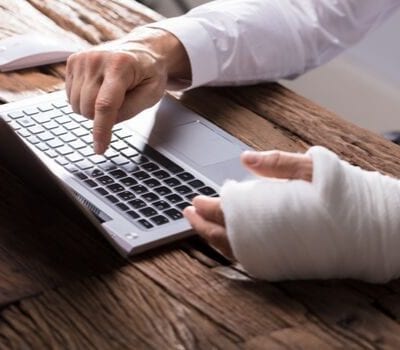 FAQ
Most frequent questions and answers
WHY DO INJURY VICTIMS CHOOSE M. AUSTIN JACKSON ATTORNEY AT LAW?
Once you decide to take legal action following your accident, one of the first things you're likely to notice is the seemingly endless array of representation options you have. Few other personal injury firms, however, can match the experience, service, and advocacy that M. Austin Jackson, Attorney at Law provides.
Too many injury victims feel that legal action is out of the question due to the legal fees they expect to accumulate. Many are already facing substantial financial burdens due to their accident and hiring legal counsel may seem out of the question.
At M. Austin Jackson, Attorney at Law, we are well-versed with the expenses and concerns injury victims face in the wake of their accident. That is why we often work on contingency fees. That means we charge our clients nothing until we secure them a financial recovery. That way, any injury victim can have access to experienced, vigilant counsel to pursue the relief they know they deserve during this difficult time.
WHY DO I NEED A PERSONAL INJURY LAWYER?
While Georgia law does not require you to hire a personal injury lawyer, doing so may be in your best interest.
That's because most personal injury claims are filed against an insurance company — a large and powerful corporation that will work very hard to pay you as little money as possible.
Far from the promises they make in their TV commercials, insurers exist to make themselves a profit — not to be your neighbor, friend, or a helping hand.
Taking on an insurance company by yourself can be a real challenge. Insurance adjustors are specially trained in the art of reducing the company's financial liability whenever possible. Additionally, they have extensive resources and entire legal teams to support them.
By hiring an Augusta personal injury lawyer, you can level the playing field. In fact, insurance companies may view your claim differently the moment you hire a lawyer. After all, their best hope is to make your claim go away as quickly as possible (and for the smallest amount of money possible). The last thing they want is a costly trial, especially if they believe they might lose. Your lawyer can be helpful in persuading the insurer that reaching a fair settlement is in everyone's best interest.
In a perfect world, insurance companies would always do the right thing, and they would always take accident victims seriously whether they hire a lawyer or not. Unfortunately, that isn't always the case.
HOW MUCH MONEY CAN I GET FOR A PERSONAL INJURY CLAIM IN AUGUSTA, GA?
No two cases are quite alike. The amount of financial compensation available in your claim will depend on a number of factors, including (but not limited to):
The severity of your injuries
The nature of any other damages you might be able to claim
The number of parties liable
Whether you were partially at fault too (note that this is not a bar to recovering money in many cases)
The relevant insurance policy limits
Any statutory caps or limitations that might apply
All the other factors and circumstances surrounding your claim.
We understand, however, that your potential for financial recovery is an important part of your decision about whether to take legal action. We also understand how important that money is to you and your family — you've suffered real losses, you may have missed work, you have bills to pay, and so on.
While no one can promise specific results in advance, what we can offer you is a free, no-obligation consultation with our Augusta personal injury lawyer. Call us or contact us online, tell us about your situation, and we can help you learn more about the damages you might be entitled to.
We can also tell you how much money people with similar claims have recovered in Georgia in the past.
In some cases, you may be entitled to much more money than you realize. For that reason, it is important to discuss your claim closely (and confidentially) with an experienced attorney before making any decisions about your legal rights.
Contact Form
Contact Form